Posted on 01. Jun, 2012 by Thomas Swanson in Culture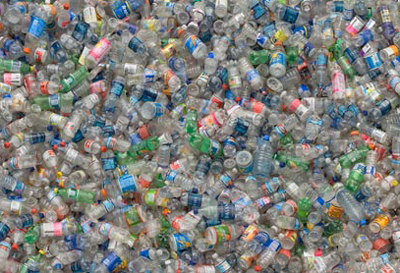 According to National Geographic, bottled water consumption is at an all-time high thanks to a recovering economy and a higher demand for convenience. Americans drink more bottled water than anyone else in the world to the tune of approximately 100 bottles per person, per year. Although the increase in bottled water consumption could indeed help with the American obesity epidemic (if consumers are replacing sodas and sugary beverages with water), it is causing significant harm to the planet.
In 2007, The New York Times reported that only an estimated one out of every four bottles of water is recycled in the United States — the rest go to landfills. Yet despite these alarming facts, more Americans are drinking bottled water than ever before, touting taste, convenience and health as reasons for reaching for the Dasani instead of the tap.
The Bottled Water Epidemic
The truth is that as many as one in four bottles of water in the U.S. are nothing more than bottled tap water. Americans are choosing to pay for a convenience that they already have. All of those disposable water bottles may be mobile and easy-to-access, but they are filling landfills unnecessarily. By simply choosing to fill a reusable water bottle instead of a disposable bottle, a family can save hundreds and even thousands of dollars per year without sacrificing quality or taste.
How to Solve the Problem
So how do you solve a multi-billion dollar problem? After all, bottled water manufacturers aren't going away anytime soon. Currently, there are two approaches being taken to lower the consumption of bottled water and help prevent billions of empty plastic bottles from being disposed of each year.
The first tactic has been to prohibit the purchase and sale of bottled water in certain areas. For example, the University of Vermont and Loyola University in Chicago are just two examples of campuses that have stopped selling bottled water to students in cafeterias, campus stores and vending machines. Even government municipalities in cities like New York and San Francisco have taken similar steps to prohibit the purchase and sale of bottled water using government funds.
Although privatized bans on bottled water are certainly a statement to the public about the environmental dangers of bottled water and the safety of American public water supplies, the prohibitions do nothing to manage the daily bottled water consumption by the average American.
Making Tap Water More Appealing
One way of affecting the purchase of bottled water is by educating consumers on the quality of public water sources, as well as the ways reduced bottled water consumption could affect the planet. In addition to the harmful toxins released into the environment during the manufacture of plastic water bottles, more than a million pounds of that plastic is buried in the soil of landfills across the U.S.
Some consumers are driven by their wallets. From a cost standpoint, tap water costs a tiny fraction of the cost of bottled water. In fact, at the going retail price of a single bottle of water, Americans are paying approximately $4 per gallon — a rate many ironically complain is far too high for gasoline.
Still, it is true that many consumers do choose bottled water over tap water due to taste, as some bottled varieties come from fresh springs or are filtered to taste better than traditional tap water. If taste is a factor in choosing bottled water, there are countless home water filtration systems available to improve flavor and filter toxins and particles. Consumers can choose from refrigerator water filters, faucet filters and even water pitchers with built-in filtration systems.
Based on current trends, projected bottled water consumerism will only rise in the coming years. Change must start with consumer demand and education before the environment can begin to benefit. What's your opinion on the bottled water epidemic?